Welcome To Arc Technologies.
ARC Technologies plays an important role in the field of Contamination Control within a variety of environments. With over 25 years experience within this industry, we are able to source high quality, innovative equipment from around the world. With these resources, we can enhance the contamination control procedures, particularly in cleanrooms and hazardous areas which are so vital in today's world.
More recently, ATEX / DSEAR regulations has meant the development of an extended range of Explosion Proof (Intrinsically Safe) equipment uch as our Vacuum Cleaner range, Viable Air Samplers and Explosion Proof Portable Dust Extractors.
Explosive atmospheres can be caused by flammable gases, mists or vapours or by combustible dusts. If there is enough of the substance, mixed with air, then all it needs is a source of ignition to cause an explosion.
Principle Products:
Tiger-Vac Vacuum Cleaners:
ARC Technologies are the sole authorised distributor in the UK & Ireland for 'Tiger-Vac' vacuum cleaner systems.
Explosion Proof Vacuum Cleaners:
Legally' certified ATEX Zone 1 & 21 - Zone 2 & 22 electric and air powered vacuum cleaner for dust and liquid, including shooting range, ATEX Zone 22 - Shooting Range Vacuum cleaners - Cleanroom - Fuel & Solvent Recovery - Aircraft Dustless Sanding Kits - Acid & Corrosion recovery - Specialised Vacuum Cleaners - Industrial Vacuum Cleaners.
Explosion Proof Dust Extractors:
ATEX certified Zone 21, portable dust extractors
Disinfecting System (VAI):
'CORE2CLEAN' ( Spray-Mop-Fog )
Viable Air Samplers (VAI):
Portable Micro Air Samplers - Explosion Proof Portable Air Samplers - Multi-location Air Samplers.
ARC Technologies are the official distributor in the UK & Ireland for 'Veltek Associates, Inc.'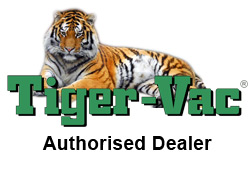 BEWARE OF COUNTERFEIT TIGER-VAC VACUUM CLEANERS!
By this message, we wish to warn all actual and potential customers to be extra-careful when purchasing a vacuum cleaner and to contact only the Authorised Distributor stated on the Tiger-Vac website to ensure that you receive a genuine product that has a specification for use in the UK & Ireland.


Mob-EX
Mobile Explosion Proof Dust Control Units

For ATEX Ex ll 2 G/D Hazardous Areas